POWER TRANSFER SYSTEM, ATS SERIES
The ATS series devices are single-phase automatic transfer systems designed and built to guarantee the highest levels of performance.
Description
The single-phase ATS series, available in sizes 16A and 32A, is a simple and effective solution to manage the redundancy provided by two independent power sources, synchronous or asynchronous sources, allowing automatic or manual transfer of loads without interrupting the power supply to the load.
One of the two sources can be designated as a primary energy source, while the other becomes the alternative source. In the event of a failure, the transfer from one source to another is automatic and instantaneous. the ATS provides the possibility to set the values of the sources so that the transfer is done under certain voltage or frequency conditions set via software. The system constantly monitors the 2 power sources; whenever the line feeding the load exits the correct tolerance range (user-definable), the load is automatically transferred to the alternative (secondary) power source. The return to the preferred source is automatic when the voltage returns within the tolerance range. To provide a maximum level of protection for connected equipment, both power sources must be online UPS.
The ATS module can also be supplied by a UPS and another type of source, or by two non-UPS sources that provide a sinusoidal output. The use of the ATS series transfer system thus provides a secure protection against potential interference in the source that supplies the load or even in any power outages that may occur.
Two separate synchronous or asynchronous independent sources.
Redundant power supply.
Transer time 8 – 12msecs.
High reliability.
Intuitive operation with LCD display.
Rack 19" configuration.
Maintenance base for hot replacement, ITS accessory.
Available in 120Vac version.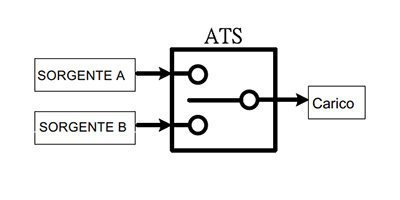 The front panel provides all the major parameters and operating status of the ATS, which includes complete diagnostics and a simple user interface.

Elements and description:
Alarm silencing.
Select source to display input measurements.
Select source for measurement display: voltage, current, frequency and percentage of load.
Select input source, A or B.
LCD display.
Source indicators A.
Source indicators B.
Alarm indicators.
USB interface.
RS232 interface.
Dry contact interface.

The ATS provides 3 communication ports and 1 accessory card slot.
Standard communication ports:
RS232, USB, and 5 dry contacts
External communication slot for accessory cards:
SNMP and RS485
The input and output connections are located on the back of the ATS. On request it is possible to supply the hot-swap maintenance base, ITS accessory.


Source input B
Source input A
Optional input switch
Optional input switch
Output outlets
Output switch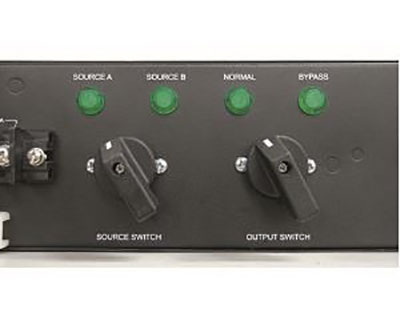 Maintenance base for hot-swapping, ITS module (accessory).